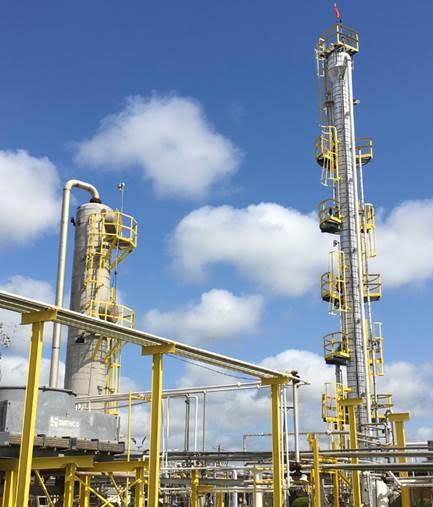 Chemical Process and Production, Inc. is dedicated to serving the needs of the petrochemical industry by handling co-product and byproduct streams with an emphasis on the "total package approach" including a commitment to safety, environment and quality control.
Since 1972, we've been serving the needs of ARCO Chemical, Exxon Chemicals, Monsanto, Shell Chemical, and Texaco to name a few.
Our team of seasoned professionals creates a solid backbone of quality and consistency.
The plant is permitted for three units. At this time, has two chemical processing units are in service that can separate numerous types of feedstreams into products via distillation. A unique aspect of CP&P's plant is that it contains a combination of traditional and today's most advanced technologies.
Descriptions of the process units are as follows:
Unit #1 – a 15,000 lb/hr distillation column
Unit #2 – a 6,000 lb/hr distillation column
Each tank is equipped with its own loading line. This mitigates contamination issues. A lab with a GC for quality control and a glass tower simulator of unit #2 are both in service for process simulation.
Process steam used in the reboilers of the different distillation columns is provided by a 1.7 MM BTU/hr natural gas boiler. This boiler is designed to produce a maximum of 10,000 pounds of steam per hour but normally operates at about 40% of maximum. The boiler is authorized to burn fuel oils. The fuels are stored in three (3) existing 400 barrel fixed-roof tanks currently used for fuel storage.
Fugitive emissions are monitored quarterly by Team Environmental. The SPCC plan for the plant was developed by Meridian Alliance Group and is available for review.
Processing Capabilities
CP&P has the resources to provide turnkey processing including research and development, quality assurance, transportation and process optimization. CP&P offers an enormous amount of flexibility in the processing of streams including:
Toll processing of a feed stream where all the components are returned to the owner
Toll processing of a feed stream where all or part of the stream is sold and remaining components are returned to the owner
Processing, evaluation, and analytical techniques to produce a valuable quality product
Processing of byproduct streams to produce marketable streams and achieve waste minimization
Reactive chemistry
Do you have a need or an idea that's not listed? Contact us as chances are, we have the equipment and the know-how to meet your needs!